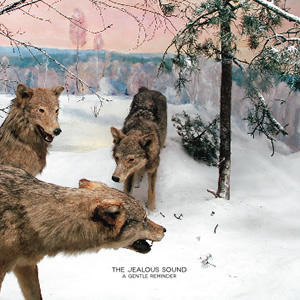 Slated for January 31, 2012 A Gentle Reminder will be the first full-length album released by The Jealous Sound since the now-classic Kill Them With Kindness 2003 release. Of course, the band hasn't been completely quiet since 2003, the 2008 EP Got Friends left you wanting so much more. So have your wishes been granted?
The good news is Blair Shehan is back (along with his gravelly, nasally vocals) with some great stuff to offer on A Gentle Reminder. The album starts off with "Beautiful Morning" (my personal favorite track) which starts off a somewhat slow and then crescendo's into brilliance.
"Your Eyes Were Shining" [listen here] opens with a single guitar and Blair pleading, "Pray you don't know how this feels, I pray you don't go home alone, I pray you don't know" — it will instantly remind you of the good old days back in 2003.
Other notable tracks on the album include "This Is Where It Starts" "Here Comes The Ride" "Perfect Timing" and "A Gentle Reminder."
While A Gentle Reminder isn't Kill Them With Kindness it's definitely worthy follow-up release. I highly recommend checking it out when it drops on the 31st.
Rating: 7/10